Health & Safety
Keeping a safe distance
Your health and safety and that of our employees are of the greatest importance to us. That is why, in compliance with the recommendations of the WHO, we have made changes to our services. At our side is the renowned Bureau Veritas, ensuring we maintain the highest standards at every step and that you have a pleasant stay.
Overview of our measures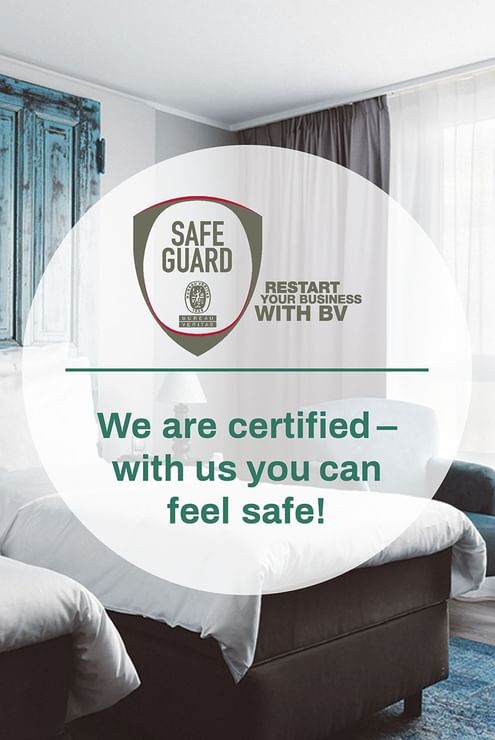 Face the challenges
Safeguard label for highest hygiene standards
COVID-19 has changed the world, but it shouldn't stay that way forever. That's why Hotel Berlin, Berlin is declaring war on the virus with the highest standards of hygiene. The through-and-through checklist of new measures - drawn up with Bureau Veritas, a renowned testing and inspection company with many years of experience in occupational health and safety - leaves no area in the hotel out: from the lobby to the reception desk to the last corner of every room, everything has been redesigned to respond intelligently to the new challenges.
Download Full Hygiene Concept
A brief overview of our measures:
Masks

You are still welcome to wear a mask. However, this is no longer mandatory.

Breakfast

Our generous breakfast buffet is the perfect start in a perfect day – prepared safely and freshly just for you!

Put your hands on it!

Hand sanitizers are available all over the hotel. Use them liberally. Stay clean, stay safe!

You're the boss

Once you've checked in, we won't bother you. We'll only come to your room if you want us to bring you fresh towels - just let us know. We'll clean your room after you check-out.

Leave your cash in the bag

Use contactless payment methods: fast, secure, hygienic.

Not just clean, but pure...

We do extra daily cleaning and sanitizing of public or frequent contact spaces such as doors, lifts, and sanitary areas.
You will find the latest information on the situation in Berlin and measures for your visit to Berlin on Visit Berlin.
"We take the new hygiene regulations just as seriously as we ensure the impeccable origin of our food and uncompromisingly adhere to our concept of sustainability"